PRESS RELEASE November 6, 2023
GLIA Holds Retreat in Cedarville, Michigan to Help Island Communities in the Great Lakes Prepare for the Future
The Steering Committee of the Great Lakes Islands Alliance (GLIA) met from October 2-5 in Cedarville, Michigan, near the Les Cheneaux islands in northern Lake Huron with a challenging task – decide how the Alliance can best support the residents of islands as they face environmental and socio-economic issues over the next 10 years.
The full press release is available here.
Caption for the adjacent photo: Participants of the Great Lakes Islands Alliance's Steering Committee Retreat. From left: Bob Anderson, Beaver Island, Michigan; Angel Welke, Beaver Island, Michigan; Mike Gora, Middle Bass Island, Ohio; Renee Fultz, South Bass Island, Ohio; Ned Hancock, Madeline Island, Wisconsin; Kate Tagai, The Island Institute, Maine; Paul Juniper, Amherst Island, Ontario; Matt Preisser (GLIA Coordinator), Michigan Department of Environment, Great Lakes, and Energy; Peter Huston (GLIA Project Manager), The Stewardship Network, South Bass Island, Ohio; Joe Shorthouse, Manitoulin Island, Ontario.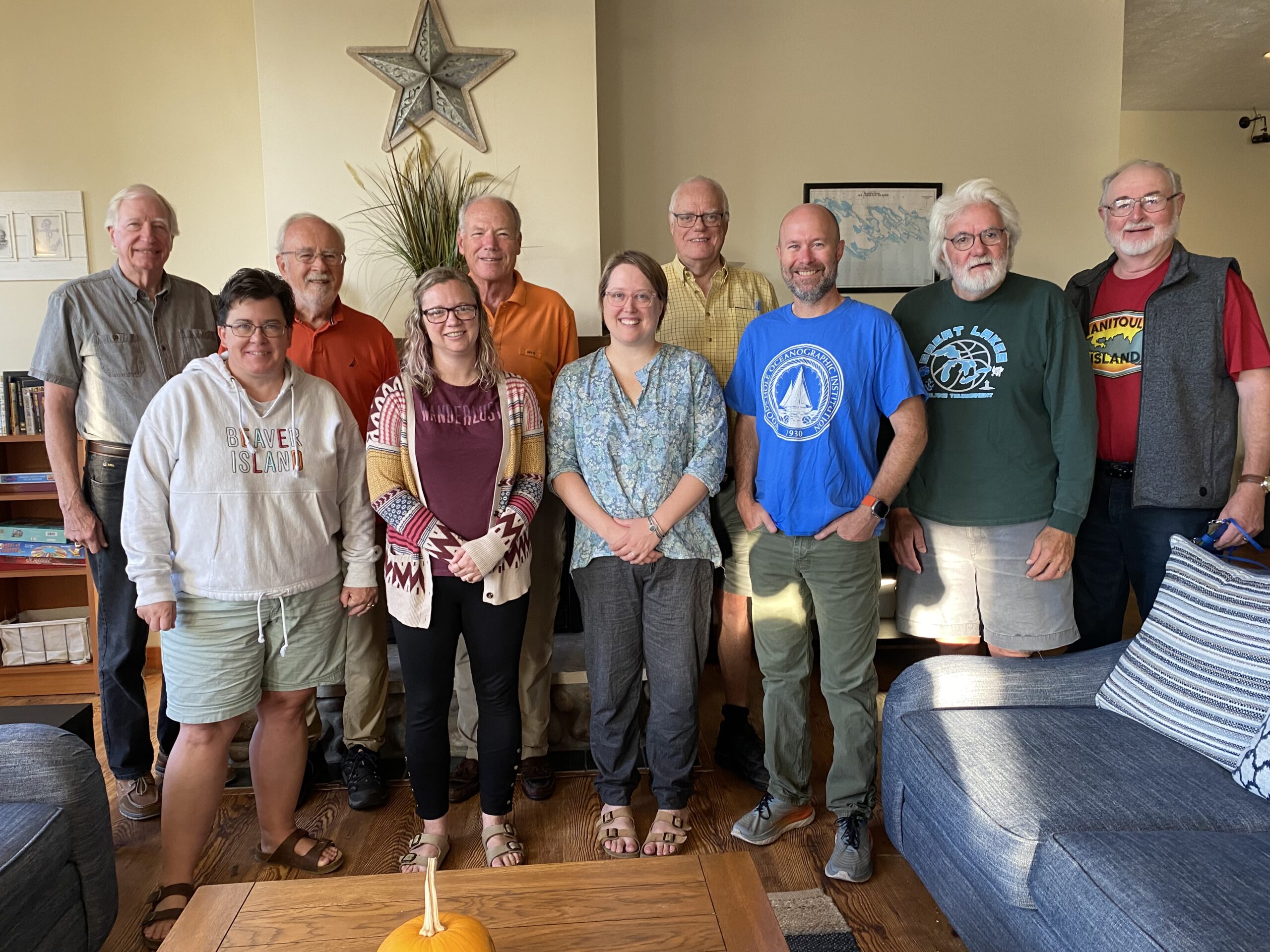 An Overview of GLIA And Its Member Islands

Since 2017, the Great Lakes Islands Alliance has been connecting islanders and amplifying their voices. As core functions, GLIA hosts robust Zoom discussions every month plus the annual Great Lakes Islands Summit. Our membership is now over 150 people from 20 different islands - the crown jewels of the Great Lakes!
OUR MISSION
The Great Lakes Islands Alliance encourages relationship building, fosters information exchange, and leverages resources to address shared challenges and embrace opportunities to benefit islands.
DONATIONS
Your donation to GLIA is appreciated and crucial to GLIA's operations. Financial contributions support operations including staff travel to connect with islands, as well as programs such as the Annual Summit.


The Great Lakes Islands Alliance is fiscally sponsored by The Stewardship Network, which accepts and administers charitable donations on GLIA's behalf. The Stewardship Network is a 501(c)(3) non-profit organization, and your charitable contribution is tax-deductible to the extent allowed by the law. The Stewardship Network's mission is to connect, equip, and mobilize people and organizations to care for land and water in their communities.


If you have any questions about supporting GLIA financially or otherwise, please contact Peter Huston, Project Manager of GLIA, at phuston@glialliance.org. If you have any questions about your donation transaction, please contact staff@stewardshipnetwork.org.
Please see instructions for making your contribution below.


To donate by credit card: click the "Donate to GLIA" button below to visit GLIA's donation page, hosted by The Stewardship Network.



To donate by check: please make payable to The Stewardship Network noting "GLIA" in the memo, and mail to:


GLIA c/o The Stewardship Network

416 Longshore Dr.

Ann Arbor, MI 48105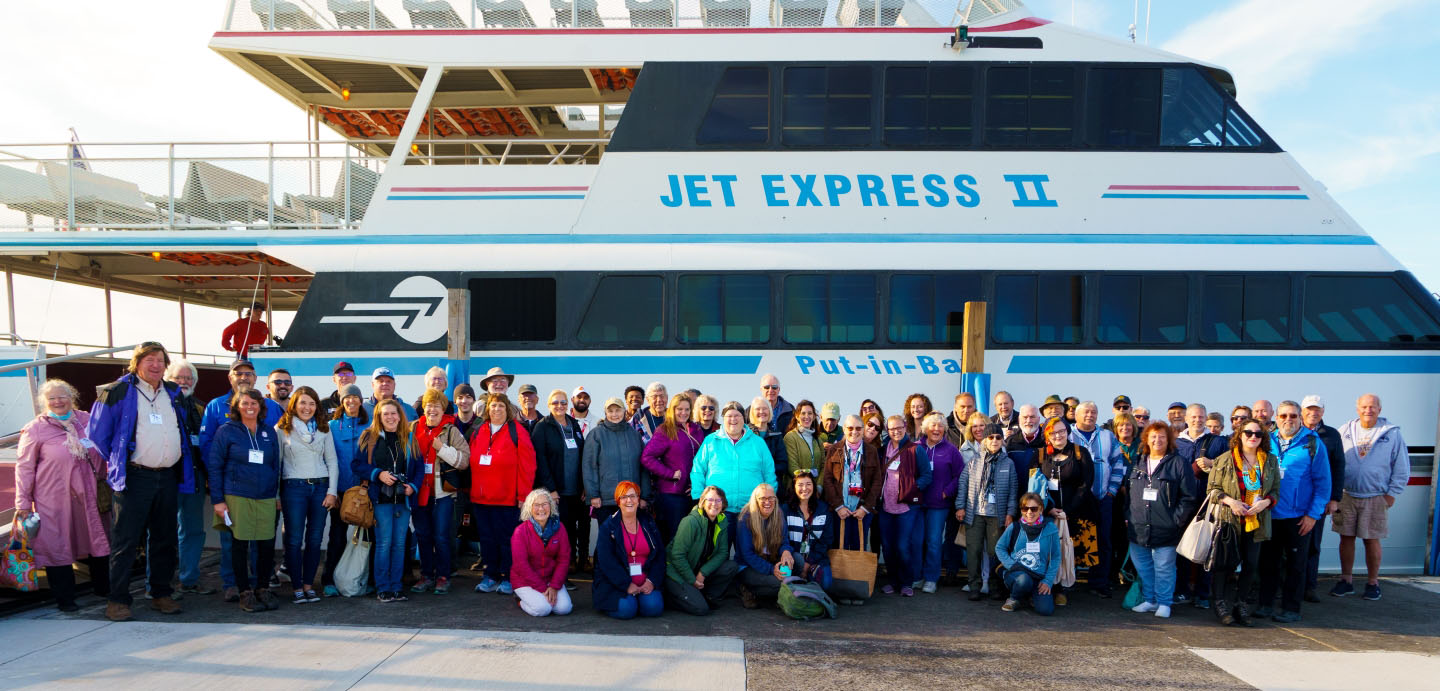 Group photo of most of the 2022 GLIA Summit attendees
The 2022 Great Lakes Islands Summit
on October 2 - 5, 2022 was a great success.
After two years of pandemic delays, the voluntary, bi-national Great Lakes Islands Alliance (GLIA) recently held its marquee event, the Great Lakes Islands Summit, across four island communities in Lake Erie: South Bass (Put-in-Bay), Middle Bass, and Kelleys Islands in Ohio and Pelee Island in Ontario. This was GLIA's fourth such Summit since 2017 and the first to span multiple islands. The Summit rotates to a different island(s) each year and allows that community to showcase its successes and challenges to visiting leaders from other islands across the vast Great Lakes region and beyond.
In 2022, a total of 89 participants came from eight states and one province, including as far away as Maine and Florida. This included islanders from 13 Great Lakes island communities plus additional partners and advocates from mainland organizations. As a sign of the times, a number of additional people sent late regrets and had to cancel due to family, COVID, professional commitments, and even Hurricane Ian complications.
Meeting Narrative
Full Summary
Appendix A - Sponsors
GLIA News February 1, 2023




Our newest island video "Amherst Island Comes Alive" will introduce you to this beautiful island at the east end of Lake Ontario on the Canadian side and is available here.


For a complete list of our island videos, take a look at our YouTube channel at https://www.youtube.com/@greatlakesislandsalliance.


Our 2022 Annual Report has been published and describes our excellent progress towards meetings our goals for the year.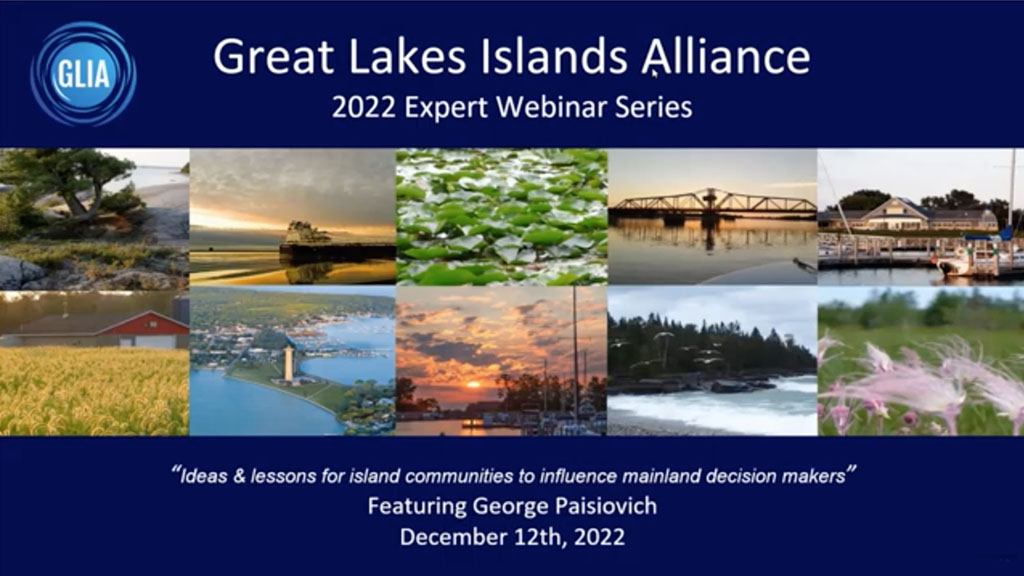 George Paisiovich is a long-time political advisor, organizer, and consultant with expertise in stakeholder relations. He has worked with or for many levels of government, including both the Canadian federal and provincial Parliaments. George will tell the complex story of endangered species protection on Pelee Island and explain how they moved from polarization to collaboration. This webinar will conclude with discussion about common approaches for islands to more effectively work with mainland governments.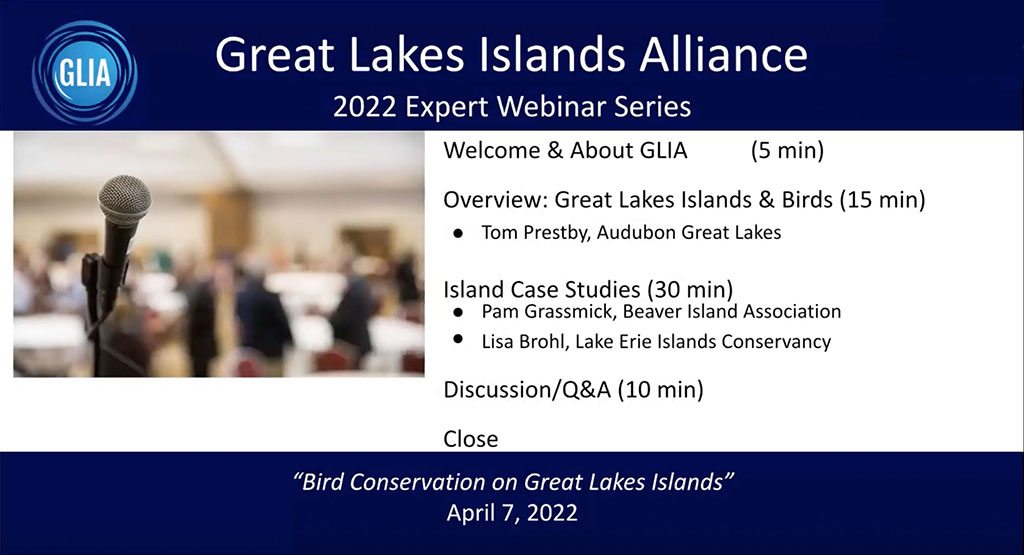 Great Lakes islands are critically important places for a variety of bird species, such as land birds (e.g., sparrows, warblers), waterbirds (e.g., herons, loons, plovers), and waterfowl (e.g., ducks, geese, swans). Unfortunately, these species face a variety of threats on a local, regional, and global scale. Maintaining a variety of habitats – forests, wetlands, grasslands, beaches, and even residential backyards – will play a role in bird conservation by providing feeding, nesting, wintering, and migratory stopover sites. This webinar was originally held on April 7, 2022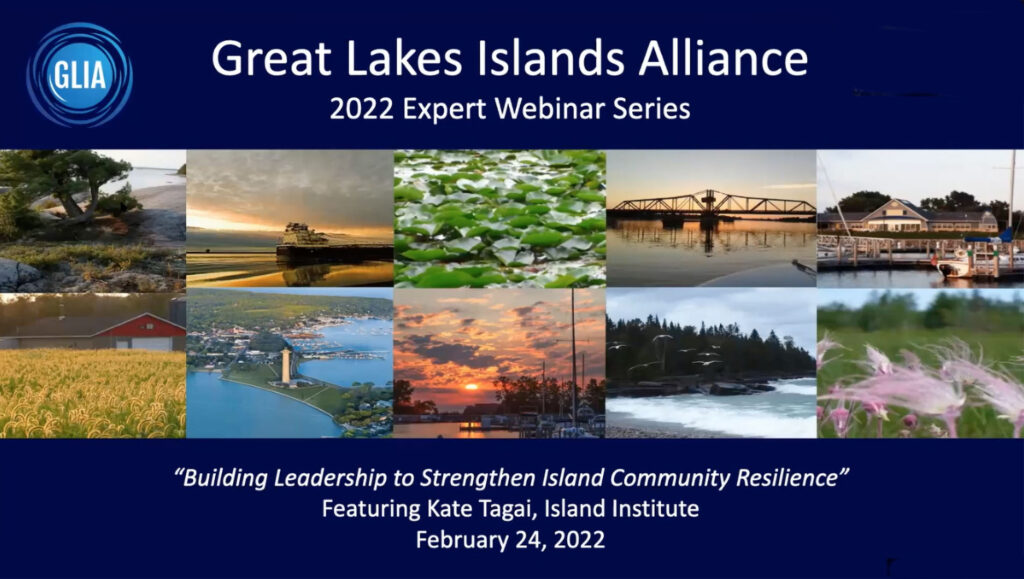 Our first webinar, "Building Leadership to Strengthen Island Community Resilience"
was held on February 24, 2022 and featured Kate Tagai of the Island Institute in Maine
speaking about their development of a leadership framework for islands
and the successes they have had with it. Click on the above image to view it.

HEALTHY, SUSTAINABLE ISLAND COMMUNITIES.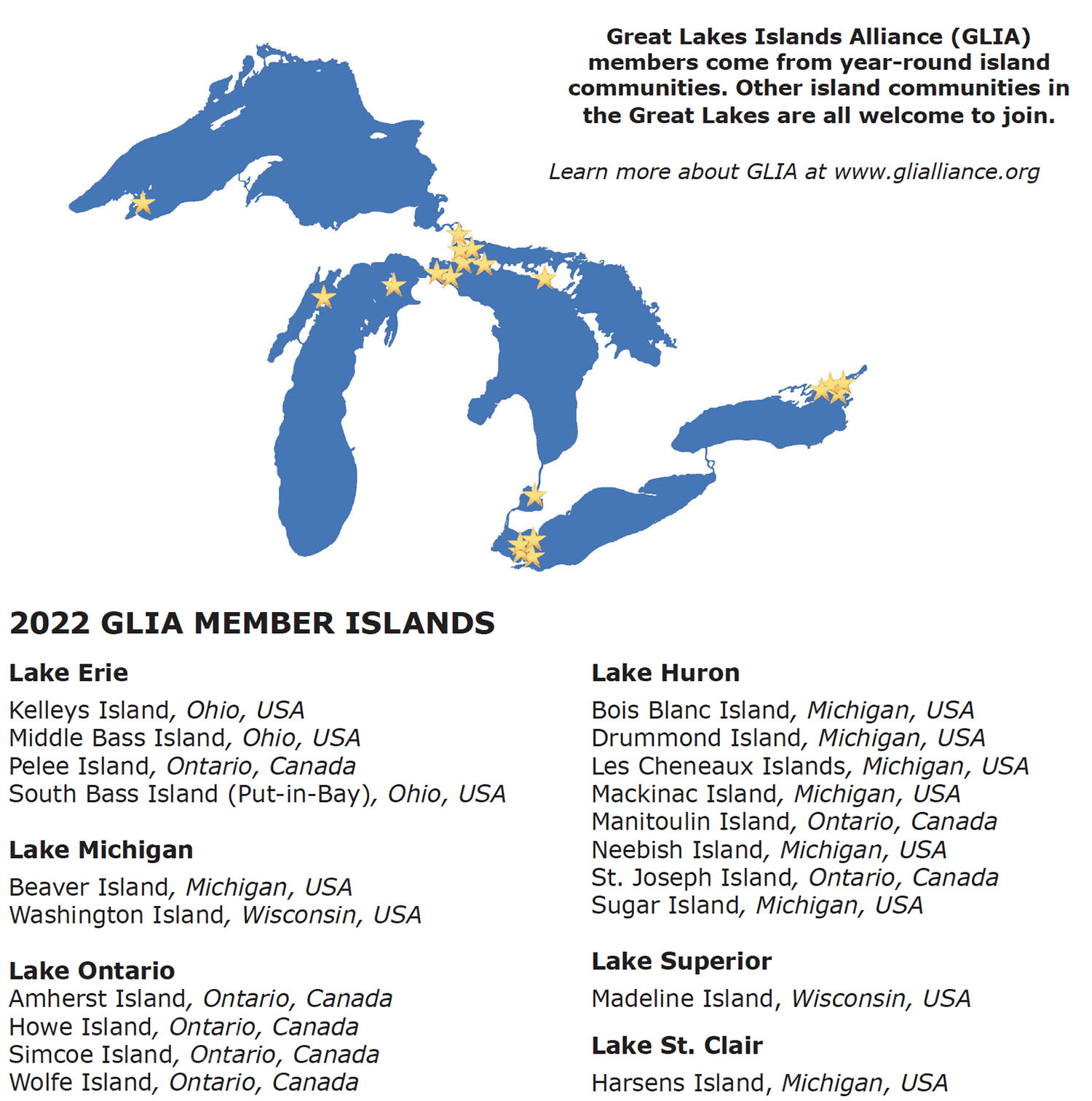 The Great Lakes contain the largest, most diverse collection of freshwater islands in the world. Of the 32,000 islands, nearly twenty continue to host communities of people, typically a mix of year-round and seasonal residents and visitors.

While present-day island communities are uniquely distinct from one another in character, traditions, and geography, they share a number of complex, inter-related challenges, including: access to public services and quality education; supporting a diversified economy; managing natural, cultural, and historical resources across public and private boundaries; and changing demographics (size, age, seasonality, ownership, economic status, etc.).

These challenges are hurdles, not immovable barriers. In fact, some island communities have already independently developed their own "island solutions to island challenges." Island communities are finding they often have more in common with one another than to their adjacent mainland. There is great value in islanders learning from other islanders about best practices that work, as well as those that don't.


Great Lakes Islands Alliance Programs
Island Updates
The monthly GLIA call on April 1, 2020 was dedicated to sharing coronavirus information (status, good ideas, specific challenges) from each island. GLIA members from each community were asked to provide an informal, 5-10 min update. Note: with a few exceptions, the summaries below are not a verbatim, nor are they intended to represent a full or formal or fully vetted record from each island community. Please contact GLIA leads from each island for clarifications.
Reports from past great lakes islands summits
ISLAND SHOWCASE
Learn more about our 20 member islands.
Resources & Webinar Resources Webinar: Great Lakes Water Levels 101

Learn about Great Lakes water levels from one of the leading experts in the region, Andrew Gronewold, PhD, PE, physical scientist at the National Oceanic and Atmospheric Administration (NOAA)–Great Lakes Environmental Research Laboratory and adjunct professor at the University of Michigan.
watch webinar
webinar Q&A

2019 Great Lakes Islands Basketball Tournament

The tournament was held on Dec. 6-7, 2019 on Mackinac Island. Teams were from Washington Island (Lake Michigan), Mackinac Island (Lake Huron), South Bass Island (Lake Erie) and Beaver Island (Lake Michigan).
The last link above will start at 44:32 in a longer video
Contact Us
Michael Gora
Steering Committee Member and Webmaster
Great Lakes Islands Alliance
404-444-7450
Peter Huston
Project Manager
Great Lakes Islands Alliance
Matt Preisser
Michigan Department of Environment, Great Lakes, and Energy
517-256-5276
Mailing Address:
Great Lakes Islands Alliance
C/O The Stewardship Network
416 Longshore Drive
Ann Arbor, MI 48105